UMD
Universal Measuring Device (UMD)
The UMD is a universal measuring device for use in Flying Probe Testers for PCBs.
The functional targets are comparable to those of the measuring electronics used in the earlier MANIA Ultim8 testers; however the UMD is completely new developed to achieve highest performance.
The UMD is perfectly driven and controlled by the FourStars-ES ProbeStar Software.
The main functions of the UMD are:
Capacitance measurement
Resistance measurement, supporting

Regular 2 wire continuity measurements.
Four wire Kelvin low resistance measurements.
Four wire Kelvin component measurements.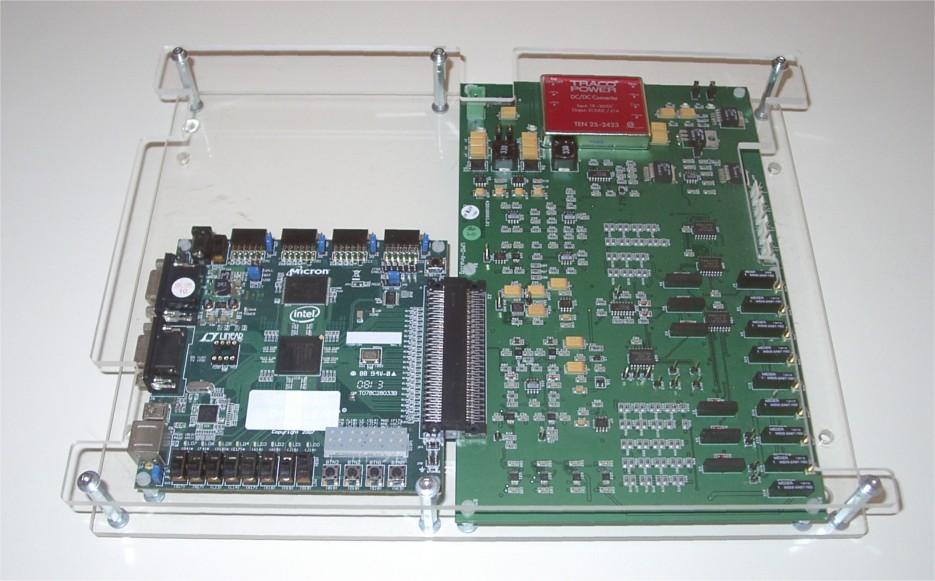 The UMD consists of 2 electronic parts:
An analog electronic module
A digital electronic module
The analog module contains:
Power connector for single 24V DC supply
Local voltage regulators
References
Analog components (converters, amplifiers, etc. )
Interface to the measuring probes (Hirose PO6 coax connectors)
max. cable length to contacting probes: 8 m each
The digital module contains:
Interface to the controlling PC
High speed (Xilinx) FPGA for real time data processing of measurement data
Integrated soft cores for smart data handling and process control
Diagnosis display
Mechanical Solution:
Sandwich solution for easy integration into different tester types
Assembled and tested at FourStarsES
Specification:
Capacitance measurements:

Resolution: 1 fF   (femto Farad)
Max. C: 100nF   (nano Farad)
Auto ranging   (5 discrete ranges)

4WK low Resistance:

Resolution: 1 µΏ   (micro Ohm)
Repeatability: 5 µΏ   (laboratory environment, 5 m cables)
Max. R: 35.4 Ώ
Auto ranging   (10 discrete ranges)

2 wire regular resistance and 4WK component measurement

Resolution: 1 mΏ   (milli Ohm)
Max. R: 1 MΏ   (MegOhm)
Auto ranging (12 discrete ranges)